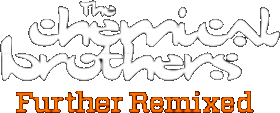 This is the audio page. You can listen to remixes using the music player, or download them to your computer by clicking on the links below.


This download includes the entire album, with each track mixed into the next, like the original album. It also includes bonus tracks Don't Think (Alexander Veale Remix 1), and Pourquoi (Rhythm Scholar Dead Pixels Remix), a booklet featuring art and info on the songs, and printable artwork for CD jewel cases.

This download includes some altenate remixes, such as Snow (Sonic Tramp Remix), Escape Velocity (Eddie Pedalo Remix), Swoon (Eis-t's Old Skool Lush 3-1 Mix), and more!

FurtherRemixed is available on an Android App for Android OS 1.6. Download it straight to your Android device from here for Free or search for Further Remixed on the Android Market!