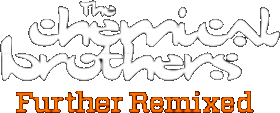 The seventh studio installment in The Chemical Brother's career marks the release of Further, a remarkable journey that begins with transmissions beeping across a galaxy of soundscapes as the flow of each song thereafter propels you through oceanic and at times dizzying aural spheres. Not bad for two super star dj's who've achieved near super nova status.
There is an over abundance of adjectives that can be used to describe the Brother's most conceptual body of sonic wizardry to date. But there are no words more inspired than the works featured on this site that were compiled from an assemblage of chemical devotees - Each piece carefully constructed, lovingly created and beyond all else, remarkable in their own right.
FurtherRemixed is a fully fledged remix album of Further, not only putting a great new take on every track but compounding them together, creating a non-stop sonic experience not unlike the original. It also goes beyond the music with special booklets and exculsive artwork, representing the Further era in both words and pictures.
FurtherRemixed is free to download and is available through the audio page. You can listen and watch each of the remixes straight through your browser using the music player, and check out the expansive art gallery through the art page. And be sure to see who the masterminds behind all this are on the credits page.